Best Cheap Gaming PCs 2021
9 min read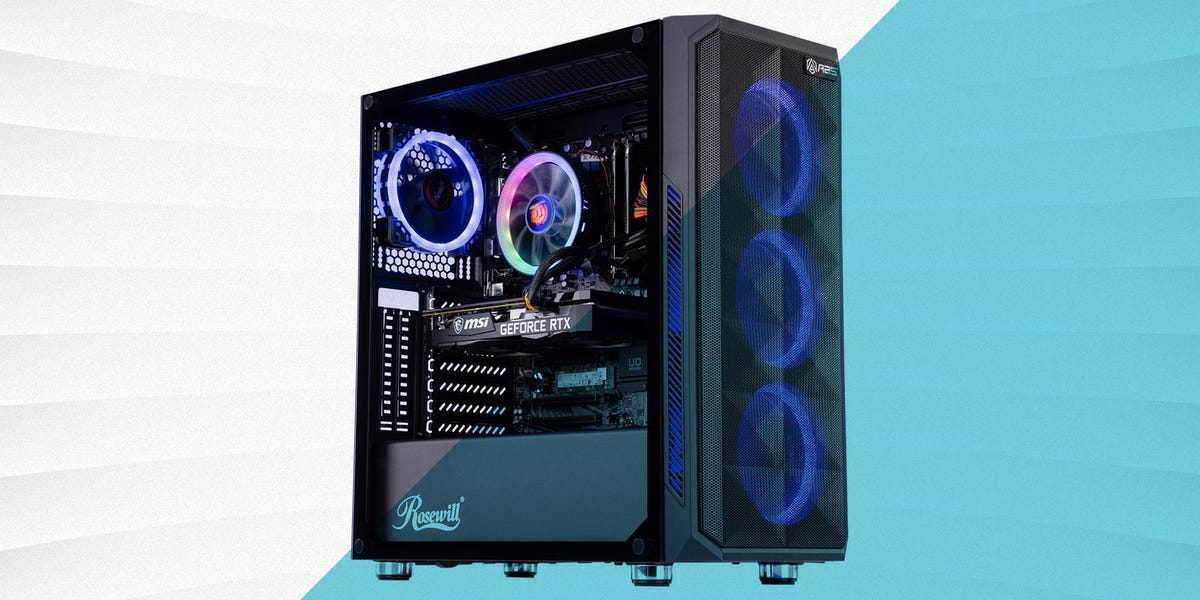 These days finding a good pre-built gaming PC under $1,500 in stock is difficult, but a hell of a lot easier than finding the newest graphics cards or gaming consoles. In this price range, you're looking at computers capable of running modern AAA games at a 1080p (full HD) resolution on medium to high settings at an average rate of 60 frames per second. Although the Xbox Series X and PlayStation 5 are able to play AAA titles with ray tracing at a 4K resolution up to 60 fps for under $500, to say they're in high demand would be an understatement. This demand is especially problematic during a global chip shortage that has constrained supply.
Unlike the new gaming systems, cheap gaming PCs are both readily available and serve as powerful workhorses beyond gaming. They offer deeper levels of graphics tuning, a wider range of games at better prices, and extensive content creation capabilities, whether you're running demanding live-streaming software or editing photos and videos. After all, there's a reason PC Master Race snobs exist.
Gaming PC Specs and Why They Matter
Before you purchase a gaming computer, it helps to understand the components that make up a PC. These specs dictate what level of performance you can expect, be it the quality of game settings or the expected refresh rates. If you want to play modern esports titles like Counter-Strike: Global Offensive in 1440p resolution at a higher frame rates you'll need more powerful components. If you want a simple machine to play older or less demanding games like Skyrim or Minecraft you can scrape by with the parts in our Best Value and Work and Play picks. The three main components of a gaming PC are:
Graphics Processing Unit (GPU)
Front and center of any gaming PC build is the graphics processor unit, or GPU. This component is one of the biggest in your PC's case and handles graphic rendering. The more power behind your GPU, the smoother and better looking your games are thanks to detail-rich resolutions for improved textures and faster frame rates. The visual data that the GPU handles also impacts tasks like video editing, gaming, and machine learning. Budget-friendly PCs meet recommended specs for 1080p gaming on most games, but if you want ray tracing for lifelike in-game lighting and 4K gaming, you won't find it in this price range. The GTX 1660 and AMD RX 5600 graphics cards lead the lower mid-tier options, offering performances that keep up with more expensive rivals.
Computer Processing Unit (CPU)
Just as important as your GPU is your central processing unit, or CPU. Made up of millions of tiny transistors, the CPU handles all processing functions and tells each component what to do. The processor frequency is measured in gigahertz and is the number of how many calculations a CPU is capable of per second. Although you might think a faster GHz speed equates to a faster machine, you must factor in the CPU's generation and number of cores. A majority of gaming PCs run on Intel Core technology (currently in its 11th generation), but AMD's Ryzen processors are incredibly efficient and are growing in popularity. The generation scheming for Ryzen CPUs is a bit confusing, so to break down each model, the Ryzen 3 is created for home computers running light tasks, the Ryzen 5 is good for gaming, and the Ryzen 7 is for excessively powerful workstations or hardcore gaming computers.
Memory (RAM & Storage)
Lastly, a computer's memory is broken down into two sections: random-access memory (RAM) and storage. RAM acts as the short-term memory, handling the active tasks your computer runs and controlling how many programs or games can be stored temporarily. More RAM allows your computer to run more efficiently by giving programs a little more breathing room in the system memory. Storage drives are hard drives or solid state drives that act as long-term memory for holding game and media files. Although you can always add an external hard drive or solid state drive, changing out RAM or an internal storage drive requires light tinkering under the hood. Because memory is where most manufacturers skimp out, you should get familiar with seating RAM and slotting memory drives, which isn't too difficult once you pop your case open. Often, cheap gaming PCs include just 8 gigabytes of RAM, but we recommend 16 GB so you can comfortably run a browser and game simultaneously without eating up too much bandwidth.
Building vs. Buying a Gaming PC
At the moment, the prices of computer components are at all-time highs due to high demand and a chip shortage. The best way to get a deal is buying a pre-built PC. Although building your own PC using sites like PC Part Picker can help you save and putting together your rig is part of the pride, manufacturers often get components at cost, which helps keep pre-built PCs more affordable. If you want to save money, we recommend pre-built models below.
How We Evaluated
Before I became Popular Mechanics's resident test editor of consumer tech, I spent two years writing about laptops for Laptop Magazine. I've been a gaming nerd my whole life, and in the past, I have owned a collection of desktops from Alienware, CyberPower PC, and HP, upgrading GPUs, adding storage drives, and seating RAM over time. At the moment, I have condensed my setup to a MSI GF65 gaming laptop with a 1660Ti GPU and i7-10750H CPU, alongside a PS5 for 4K 60-fps gaming. The cheap gaming PCs below are the models I recommend to family and friends as the holiday season approaches. With gaming rigs in my DNA, I picked pre-built PCs under $1,500 that offer high-performance components, easy-to-upgrade layouts, and cases that won't take up all of the space above or below your desk.
Best Overall
CyberPowerPC Gamer Xtreme VR
CyberpowerPC
amazon.com
$1,194.00
Key Specs
GPU: GTX 1660 Super

CPU: Intel Core i5 10th Gen

RAM: 8 GB

Storage: 500 GB SSD
Coming in at $1,200, CyberPower's Gamer Xtreme VR gaming PC offers a solid mix of non-proprietary components that you can upgrade over time. The hexacore Intel Core i5-10400F can reach 2.9 GHz, perfect for demanding tasks like streaming gameplay. The 1660 Super GPU can run full HD AAA games like Rainbow Six Siege at an average of 70 frames per second on the highest settings. The snappy 500 GB SSD pushes the performance-to-price ratio pretty high for a quality setup that will last for the near future. The 8 GB of RAM will need an upgrade especially if you run more demanding games or work in photoshop.
CyberPower often gets a bad rap as the stop gap between building and buying a PC, but their pricing on components offsets the build costs which means you get a PC that's ready to use straight out of the box. Their rigs are built with care, with slack in the neat internal wiring that you can adjust. Before shipping each component is protected by foam and all sides of the tempered glass are wrapped. Speaking of the glass panel, the frosted design is quite stylish, and the RGB interior lighting offers plenty of customization options. This is the brand that helped me make the transition to PC gaming from console when I was a teen, and this machine will serve you well, whether you're just getting started in gaming or looking for a more affordable setup.
Large case makes it easy to swap and upgrade components
Premium RGB and frosted glass design
Powerhouse Performance
ABS Master
Key Specs
GPU: RTX 3060

CPU: Intel Core i5 11th Gen

RAM: 16 GB

Storage: 512 GB SSD
If you want maximized graphics, double the RAM of every other model here, and a strong processor, the ABS Master is a powerhouse $1,300 option. This model has the brand new RTX 3060 graphics card, which is extremely hard to find. The 3060 is not only powerful enough to run the newest games like Assassin's Creed Valhalla in 1440p at maxed out settings at a frame rate of 50 FPS, but also supports ray tracing. The Master even packs a 51 2GB M2 SSD and an 11th gen i5 processor. With a whopping 16 GB of RAM, you can rip through video editing and VR gaming. On top of that, you get three free games—Marvel's Guardians of the Galaxy, Crysis Remastered Trilogy, and Humankind—that total $155 when sold separately. This computer is the fastest on our list, the most powerful, and most capable with the ability to pump out more detail at higher frame rates with ray tracing. This gaming PC is a no-brainer, but if you're willing and able to pay slightly more than many budget models.
Strongest GPU capable of ray-tracing and fast frame rates at 1440p
16 GB of RAM for better task processing
Best Value Gaming PC
HP Pavilion Gaming Desktop TG01-2170m
Key Specs
GPU: GTX 1660 Super

CPU: AMD Ryzen 3 5300G

RAM: 8 GB

Storage: 256 GB SSD
HP's Pavilion gaming desktop series is a staple in the pre-built scene for its outstanding performance-to-price ratio throughout the years. This model packs the NVIDIA GeForce 1660 Super 6 GB dedicated video card with a slightly weaker Ryzen 3 CPU for less money than our top pick. Although the AMD Ryzen 3 5300G's effective speed performance is 6 percent slower than the Intel Core i5 10-400F in the Gamer Extreme, it's a negligible difference. Where this PC takes a hit for cost is the small 256 GB PCIe NVMe SSD, which will fill up fast. We're talking installing just Call of Duty: Modern Warfare and filling up the entire drive small. Like the Gamer Extreme, you only get 8 GB of RAM, but this time at a a faster DDR4-3200 speed. If you put your savings towards more memory, then the 1660 Super GPU will allow you to play games at high graphics settings with buttery smooth frame rates for the foreseeable future.
Affordable yet powerful
Windows 11 included
Just 256 GB of SSD storage
Best Design
Acer Predator Orion 3000
Key Specs
GPU: GTX 1660 Super

CPU: Intel Core i5 10th Gen

RAM: 12 GB

Storage: 512 GB SSD
Acer's Predator packs some serious specs into a compact console-like 18-liter build with futuristic stylings. The sharp curves of the case are further accentuated by customizable vertical LED light bars that sit along the honeycomb ventilation. Glowing buttons and a carry handle on the top make it easy to move the PC around like a console. The convenient USB port door provides front access to USB 3.2 Gen 2 ports, and the pop-out headphone mount makes storing your favorite set of cans a cinch. LED lights glow out the case, and you can swap the steel siding with the included tempered glass panel. 
Outside of the bold looks, the computer performs like a tank with a six-core Intel Core i5-11400F processor that cuts through tasks at a blazing 4.4 GHz. The 1660 Super GPU offers the most bang for your buck and rips through modern games at high settings in full HD and even 1440p with ease. With 512 GB of M.2 SSD, storage is also above the standard 250 GB fare in this price range. Lastly, the Wi-Fi 6 antenna is up to snuff with the latest wireless standard so you won't lag in multiplayer games.
Console-like design with good ventilation and lighting
Easy access to ports on front of computer
Limited space makes upgrading components a challenge
Work and Play
Asus ROG Strix GL10DH
Asus
amazon.com
$1,069.99
Key Specs
GPU: GTX 1650

CPU: AMD Ryzen 5 3400G

RAM: 8 GB DDR4

Storage: 512 GB SSD
Affordable yet powerful, this Asus build is perfect for work and moderate gaming. At 3.7 GHz, the speedy Ryzen 5 3400G powers through program and gaming tasks without a stutter. And you can use the money you save on the Strix to buy more RAM and turn this machine into a more capable content creation and gaming rig. Although the GTX 1650 GPU is a slight step down from the graphics cards above—trailing by an average of 20 frames per second behind the 1660 Super at 1080p on max settings—it's still above our 30 frame minimum. Plus, if you only play older or more simple games like The Sims, Civilization, or Minecraft you won't really notice much of a performance difference. The 512 GB SSD storage and processing power lets you quickly boot up work applications like PowerPoint as fast as you can a game of Stardew Valley. When you need to mix down videos or stream while gaming, the CPU is more than enough for rendering media projects in a short amount of time.
Powerful 8-Core Ryzen 5 CPU
7.1 virtual surround sound with headphones
1650 is less powerful GPU
Limited RAM
This content is created and maintained by a third party, and imported onto this page to help users provide their email addresses. You may be able to find more information about this and similar content at piano.io