Best 60% keyboards for gaming, typing and programming
10 min read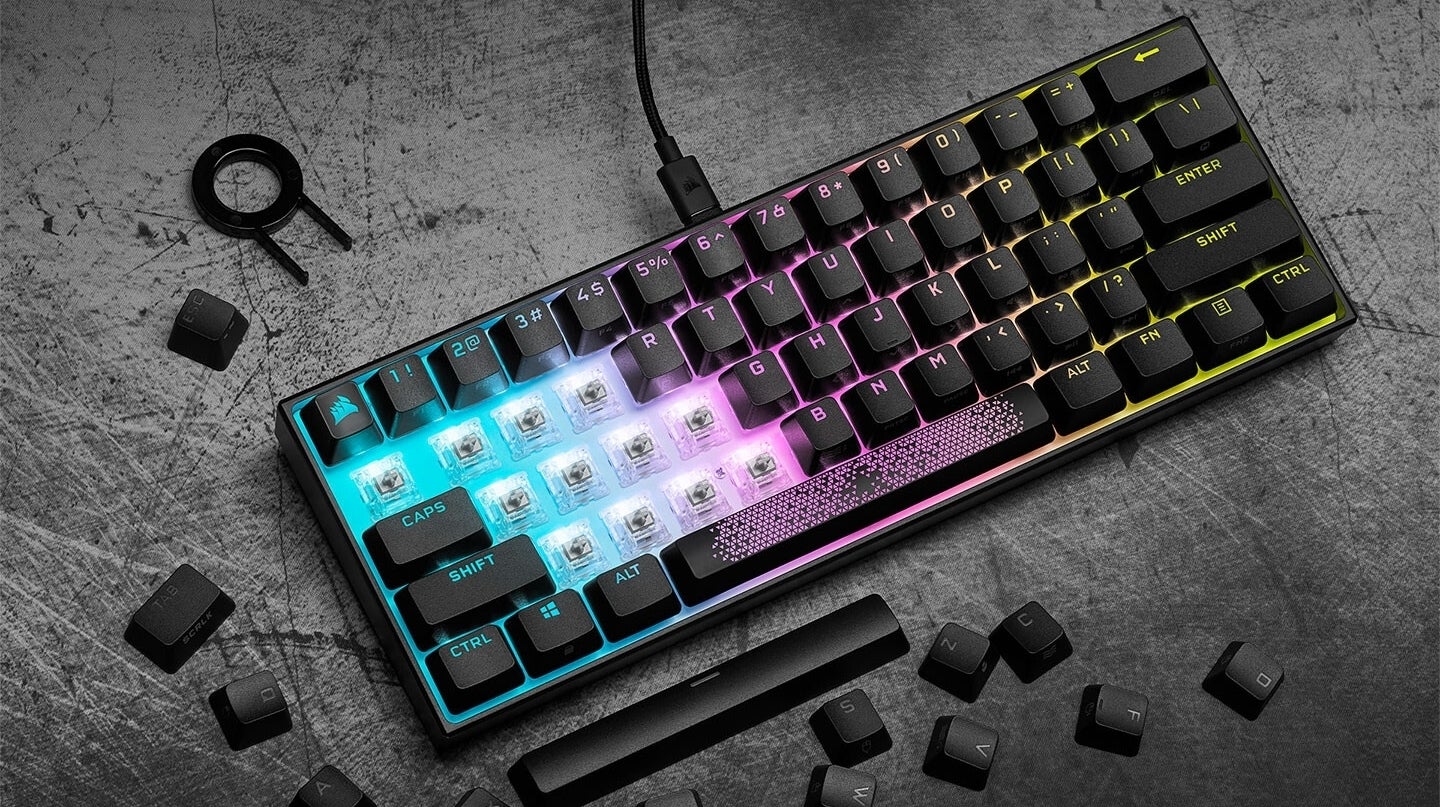 Compact keyboards are the fastest-growing segment of the mechanical keyboard space, a reversal of the traditional wisdom that gamers want full-size boards with tons of macro keys, media controls and other exciting doodads. Instead, these 60 percent boards focus on a clean aesthetic that's super-portable and takes up minimal desk space. In this round-up, we'll share our recommendations for the very best compact keyboards on the market based on our extensive testing.
Indie keyboard makers have been making 60 percent keyboards for the enthusiast crowd for years, but now the bigger brands are starting to get involved – the Razers, Corsairs and Logitechs of the world. If you wanted to see what the fuss is about with these smaller boards without losing creature comforts like synchronised RGB lighting and well-developed software packages, this is a great time to jump aboard the mini keyboard bandwagon. Of course, smaller vendors have their advantages too, and we'll try to cover both ends of the spectrum – while still focusing on boards that are readily available.
Oh, and the by the way – if you're interested in seeing our picks for full-size keyboards too, do check out our round-ups of the best gaming keyboards and best mechanical keyboards, both of which have some unique options worth knowing about!
---
1. Corsair K65 Mini
The confusingly-titled £110/$140 Corsair K65 Mini is our favourite 60 percent size keyboard. It nails the 60 percent aesthetic, with clean lines and large legends inscribed in the PBT keycaps that let in a lot of (RGB) light; there's even a replacement space bar if you don't like the geometric motifs on the default option.
I'm a fan of the way that Corsair have opted for side-printed legends for secondary functions, which eliminates the messy-looking keys you'll see on many 60 percent boards while still making it easy to find the functions you're looking for. Another nice touch is the choice of exactly where these secondary functions are; a virtual mouse is available on WASD while the arrow keys are sensibly clustered around J. Lighting controls, media and volume controls are also present and accounted for.
Corsair's iCUE software is heavy but powerful, allowing you to rebind keys, program macros and even set up intricate lighting patterns to provide just the right look. Of course, all of that is worthless without a good typing experience, and the Cherry MX Red or Speed Silver switches do feel nice to use – although a bit noisy, with an audible 'ping' as each key rebounds. The K65 Mini is also one of a few keyboards to support an 8000Hz update rate, which marginally decreases input lag according to impartial tests from the likes of Battle(non)sense.
All things considered, there's a lot to like here: all of the standard features of a top-flight gaming keyboard from a major manufacturer, tucked into a compact design with powerful features.
---
2. Everest Mountain 60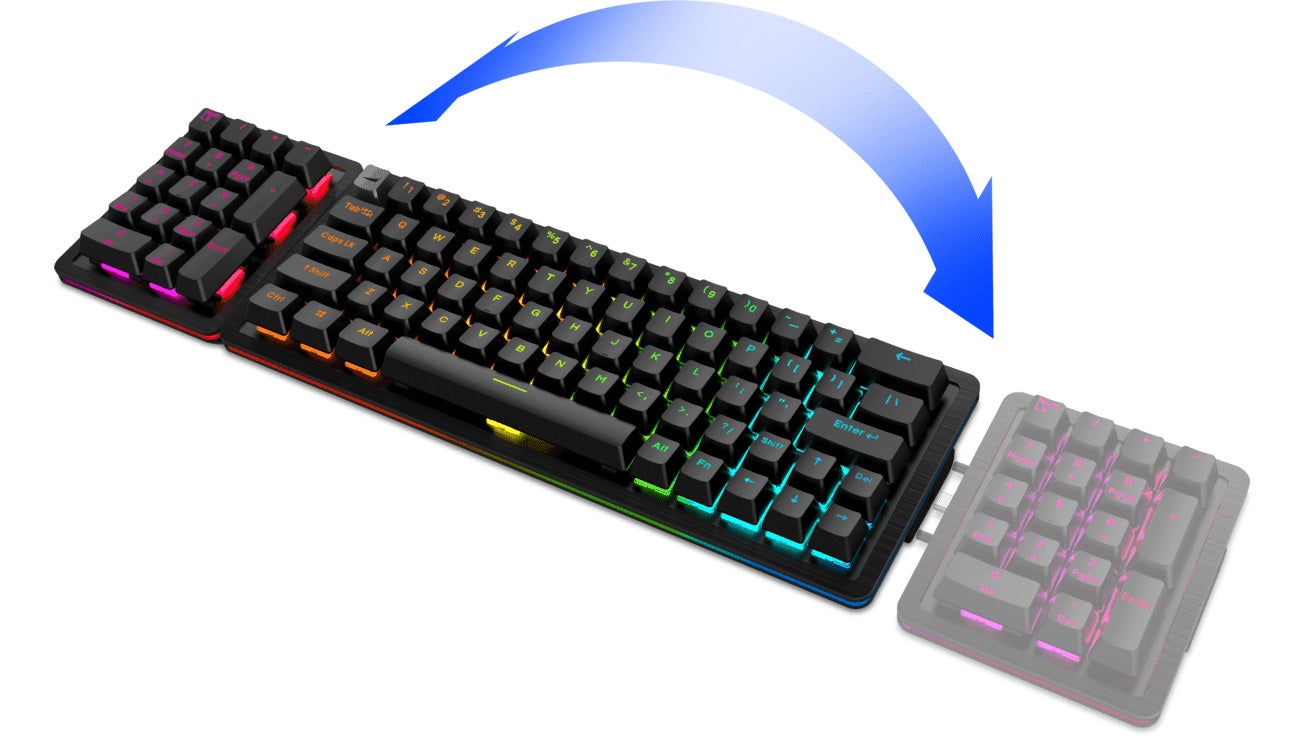 Want a number pad and arrow keys on your 60 percent keyboard? If so, the $140/€140 Mountain Everest 60 could be for you. Like the full-size Everest Max, this keyboard can accept an optional €50 number pad that clips in via USB-C on either side, giving you an easy way to enter numeric data or just have a big macro pad – all without necessarily interfering with a mouse on the right side. It's a very clever feature, but thankfully it's not the only reason to consider the Everest 60. Even with the base unit only, you still get a layout that opts for arrow keys in the lower right corner rather than full-size modifiers – ideal for anyone that spends time editing text with their keyboard.
The keyboard is also supremely well-built, from the firm's own-brand tactile, clicky or linear hotswappable switches and the premium PBT double-shot keycaps to the aluminium top section of the body. Other details are also executed to suit even the fussiest keyboard enthusiast, with clipped and Krytox-lubed stabilisers on the larger keys and both silicone and foam inserts to cut down on noise. This makes typing a very pleasant experience, with the Everest 60 producing a satisfyingly deep report.
The only minor flaws I can identify are largely a matter of taste: no legends for the secondary functions make for a cleaner look, but make it harder to learn how to do things like take screenshots or navigate through text. I'm also not a massive fan of the magnetic riser feet, as I find they fall off in a backpack easily, but it is a novel idea that allows for more levels of adjustability than you get with a traditional design.
Overall, the Mountain 60 is an expensive but well-considered keyboard, with its modular design and excellent build quality putting it head and shoulders above the vast majority of 60 percent keyboards on the market.
---
3. HyperX Alloy Origins 60

The £110/$100 Alloy Origins 60 is a very easy 60 percent keyboard to love. The board's HyperX Red linear switches, metal plate and PBT double-shot keycaps provide a soft and rapid typing experience with minimal noise, while the optional topographic spacebar looks stunning.
The placement of the Function key in the lower right corner, near the arrow keys, is a godsend for text editing and other tasks that require the arrows; you'll also find convenient shortcuts to adjust the keyboard's (bright) RGB backlighting or access media controls. (You can also use the HyperX Engenuity software to do this, plus rebind keys or program macros.) Like the remainder of the Alloy Origins line, the Origins 60 makes the most of its sleek design, with gently rounded corners, a minimal footprint yet excellent build quality.
If you're not interested in the 8000Hz polling rate, more advanced software and slightly higher price of the Corsair option, but want something a little more put-together than the budget RK61 with soft linear switches, this is a perfect middle ground. (Consider also the Ducky One2 Mini, one of the most popular 60 percent keyboards with similar features – but unfortunately one I've yet to test.)
---
4. Royal Kludge RK61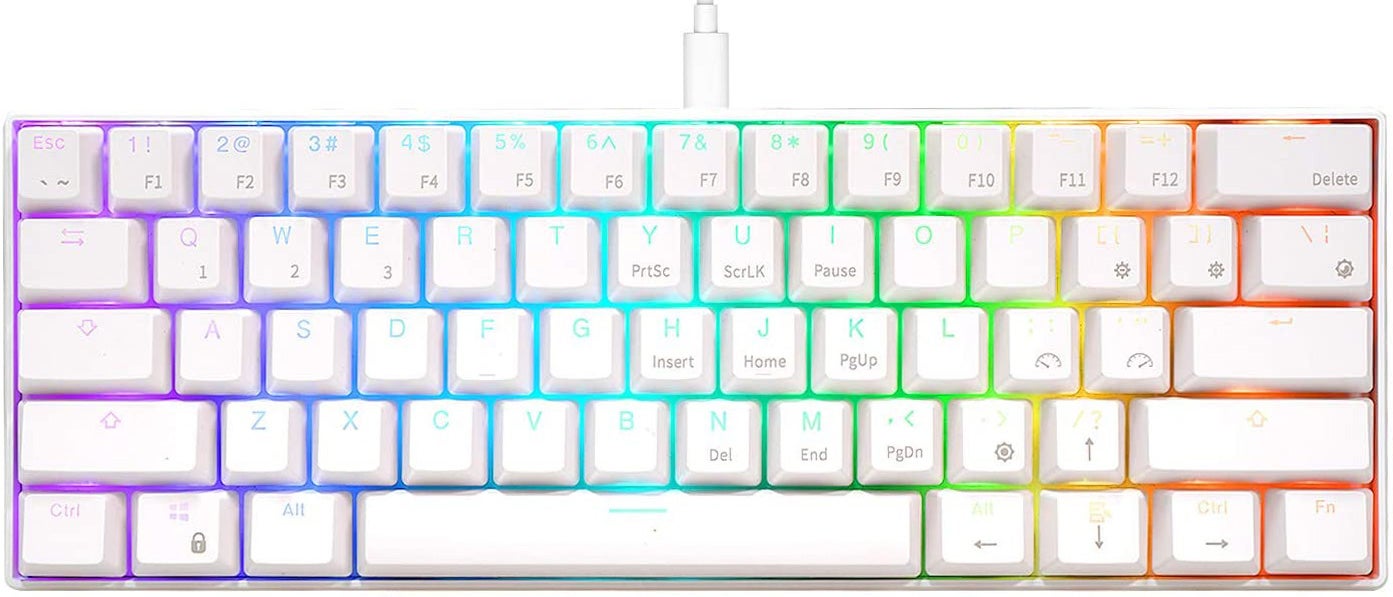 The RK61's selling point is simple: a quality compact mechanical keyboard at half of the price of the big brands. It costs just £45/$55 at the time of writing, yet feels great to type on with clicky, tactile or linear Gateron switches, and nails the clean 60 percent aesthetic. It also can be used wired or wireless, with Bluetooth support, making it a great choice to throw in your bag for some sneaky typing on the go.
The entry-level model sports a simple single-colour backlight, with multiple effects, but the version I'm testing has full per-key RGB. There's no software here to synchronise the lighting with other peripherals – such is the sacrifice you make by going for a smaller brand – but controls on the keyboard itself allow you to adjust the lighting easily enough. There are also no options for adjusting the angle of the board. I use my keyboards flat as this is meant to be ergonomically superior, but if you require more tilt than the ~5° provided by the keycaps and board itself you may need to look elsewhere.
Like other 60 percent keyboards, the RK61 uses a Function key (here in the lower right corner) to allow functions which don't have dedicated keys to be used. For example, you can press Fn + Enter to rebind keys in the lower right to work as the arrow keys for text editing, or press Fn and a number key to get the corresponding F key. This works well enough, but without dedicated software support you must rely on utilities like ClearKeys or Autohotkey to set up macros if you need them.
The RK61 proves that you really don't have to spend a lot to get a great compact keyboard. While some may prefer a more full-featured board with advanced software, the RK61 nails the essentials – key feel, connectivity, build quality and looks – at a very attractive price.
---
5. Redragon K530 Draconic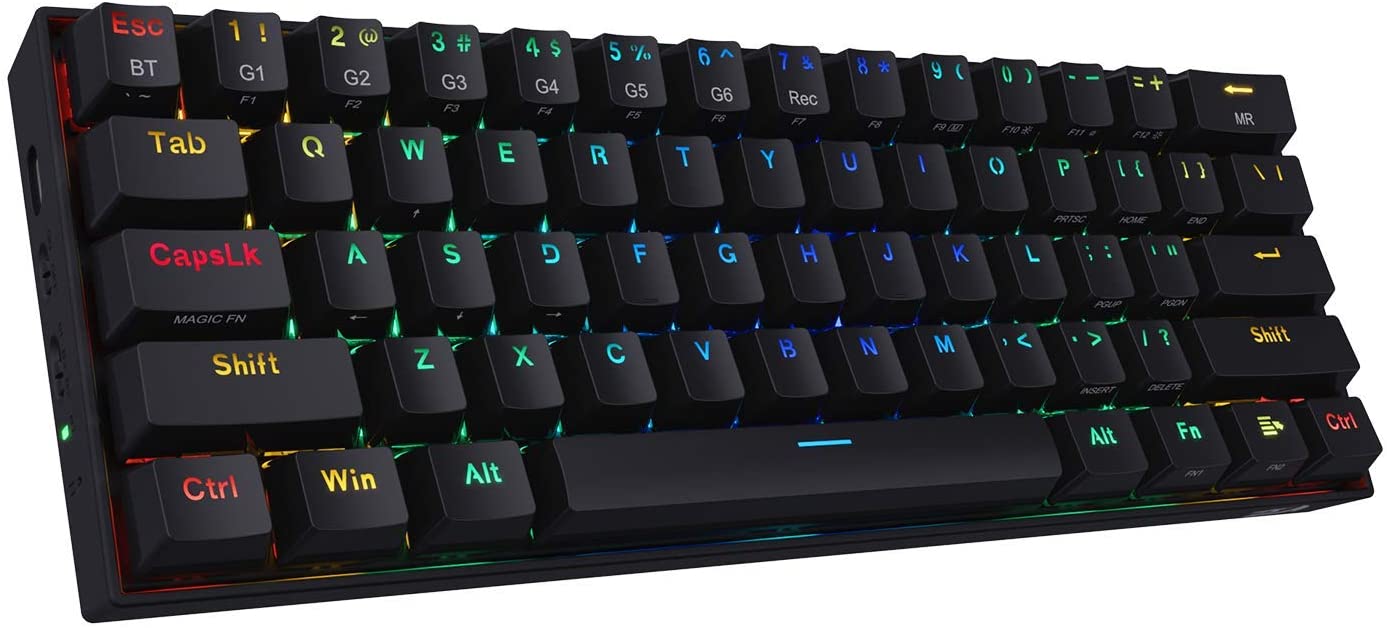 Alternatively, you might consider the £42/$60 Redragon K530 Draconic. This keyboard shares many similarities with the RK61, including Bluetooth and USB-C connectivity, but offers a slightly different layout, a dedicated switch for changing between connections on the left side and hot-swappable mechanical switches. The Draconic is the more full-featured keyboard, but the RK61 has the cleaner look. We'd recommend whichever model is cheapest in your region, as both are solid choices for the money.
---
Frequently Asked Questions
Should I buy or build?
Building is great fun, helps you learn new skills and allows you to craft your perfect keyboard. However, it can also take a long time, both in terms of waiting for materials and the actual assembly, and you'll need to be responsible for fixing any mistakes you make. If you're interested, there are good guides on places like /r/mechanicalkeyboards and Keyboard University and Switch and Click.
A good middle ground solution can be picking up a barebones keyboard like the Glorious GMMK, where you just need to choose and install switches and keycaps. This means you end up with a keyboard that feels uniquely your own, but the hardest parts – stuff like soldering and waiting for your group buy to arrive – are largely avoided.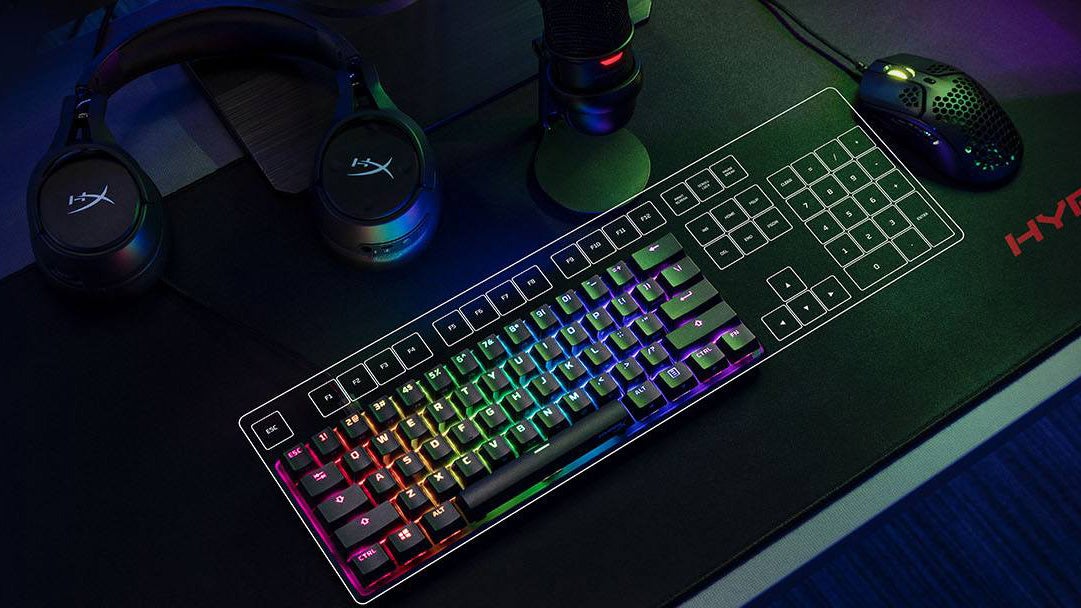 What do labels like 60 percent and 65 percent actually mean?
These categories correspond to the number of physical keys on the keyboard – we know that a full-size keyboard tends to have 104 or 105 keys, so a 60 percent keyboard will have a few more than 60 keys, a 65 percent keyboard a few more than 65 and so on.
Full-size: the most common layout that includes the alphanumerics and modifier keys, the function row, navigation and arrow keys and the numpad.
TKL (tenkeyless): a full-size keyboard with all clusters and the same spacing, just with the numpad removed.
75 percent: about as many keys as a TKL, but each cluster is grouped together tightly to achieve a smaller footprint.
65 percent: a keyboard with no function row, navigation keys or numpad, just alphanumerics, modifiers and arrow keys.
60 percent: a keyboard with just alphanumerics and modifiers.
40 percent: no number row, but with extra modifiers and a smaller space bar to keep things (somewhat) usable.
However, layouts here are much less standardised than on larger form factors and these are only broad labels anyway, so you may find the number of keys varies between boards, sometimes significantly.
This also means that finding replacement keycaps for smaller keyboards can be tricky – TKL is fine and 60 percent is generally doable, but less common sizes like 65 percent and 75 percent may require you to mix and match keycaps from different sets or just accept the keycaps that the board came with.
What are the downsides of 60 percent and other small keyboards?
On keyboards with fewer than the usual number of keys, some less-used functions are moved from dedicated keys to shared keys, requiring a modifier like Fn (Function) to be used for the desired keypress to be received by the computer. For example, while Home is a dedicated key on a full-size keyboard, you might need to press Fn + L to activate the same function on a 60 percent board.
60 percent keyboards in particular lack arrow keys, which can make editing text difficult – so we probably wouldn't recommend these for programmers or students in most circumstances. 65 percent keyboards solve this particular problem, making them a lot more usable for folks like me that spend a lot of their computer time typing, but still lack a dedicated Function row (F1 to F12) and other keys you may end up using often. 75 percent in turn solves this problem, and really represents the most compact layout that doesn't have major sacrifices. Of course, TKL keyboards have even more keys and wider spacing, which can be more comfortable.
At the end of the day, it's all down to your individual tolerances and preferences, so don't be afraid to experiment with different form factors until you discover the right one for you. Similarly, if you're lucky enough to be able to afford it, you could consider eventually having two keyboards – for example, a full-size board for programming and a 60 percent for gaming – so that the downsides of one form factor aren't something you have to live with all day.
Why are mechanical keyboards so expensive?
Most mechanical keyboards from major gaming brands end up around the £100 mark. It's a price point that users seem willing to pay for a better typing experience, and means that manufacturers can recoup the cost of both developing advanced features and including dozens of (surprisingly expensive!) mechanical switches. Happily, you can find some keyboards for half that price, but you will need to forgo a big brand name and the features that often go with it.
Regardless of how much you spend, you should at least be making an investment rather than a temporary purchase – any mechanical keyboard treated with respect should last for decades
Why didn't you recommend my favourite keyboard?
Good question! It may be that we haven't tested it yet, or perhaps we just preferred a different keyboard – and to make this article at least somewhat concise, we're trying to be selective with our picks. Of course, mechanical keyboards are largely a matter of taste, and there are dozens of attributes that might appeal to someone and put someone else off entirely. These are our particular preferences, so do read other recommendations to get a broader view!
---
We'll continue to update this article with new recommendations as we test them, so why not suggest some keyboards for us to consider in the comments below? You can also reach me on Twitter @wsjudd if you'd like to talk about mechanical keyboards. See you on the next one!